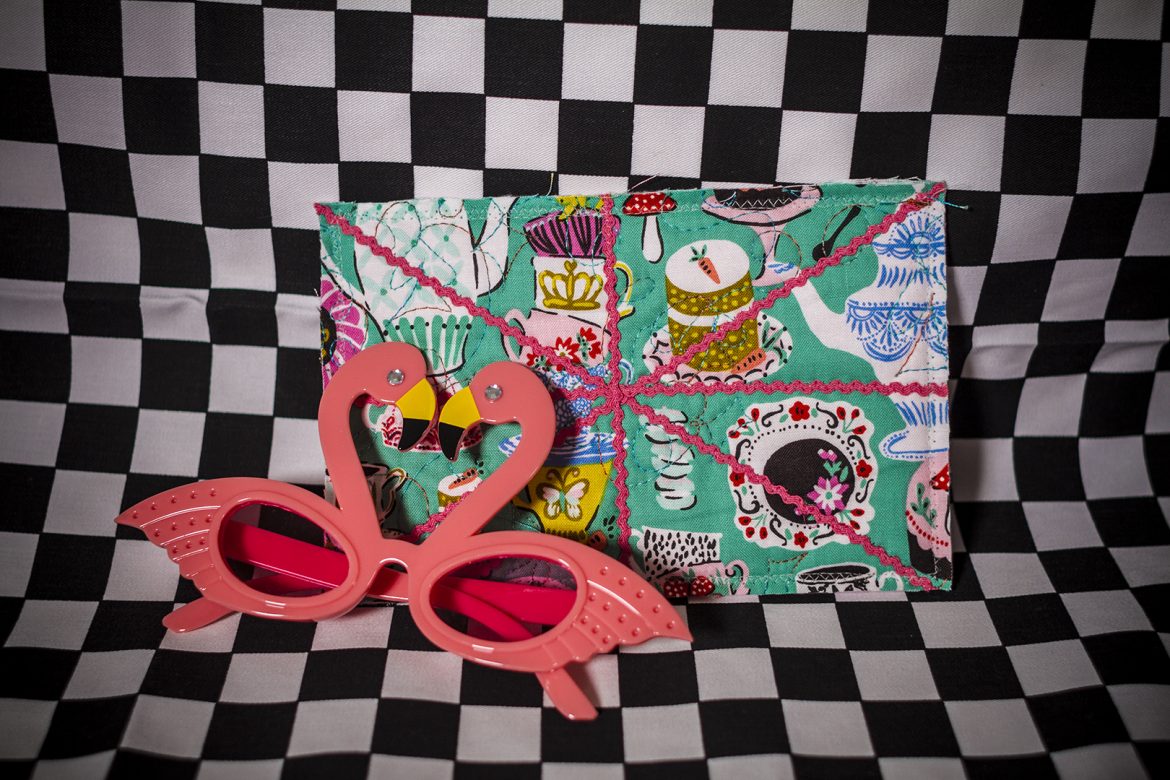 Mad March Tea Party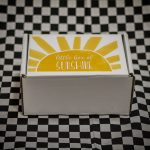 Our Mad March Little box of Sunshine is posted and on the way now. We had fun with our Mad Hatter Tea Party theme. The Sunshine Box includes a Wonderland fabric from Josephine Kimberling. The stacked tea cups and wonderland characters are so cute. We wanted the fabric to do the talking this month. So we chose a variegated thread that would blend in. Our gift this month is tea, of course! You can have a peek inside the Box and see all the goodies below.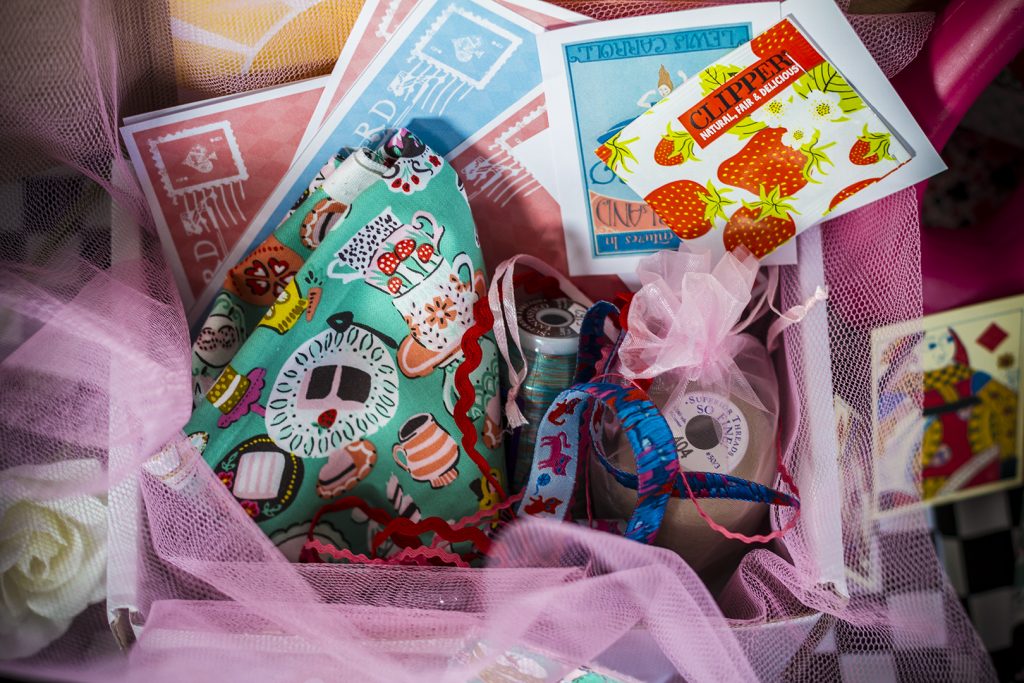 Who would think that such a bright thread would be a blender. but with bright fabric the bright thread reads as neutral; neutral being thread that you don't see. This month's addition to your thread stash is a turquoise and red variegated thread called Budgie. We think it goes great with the Wonderland fabric.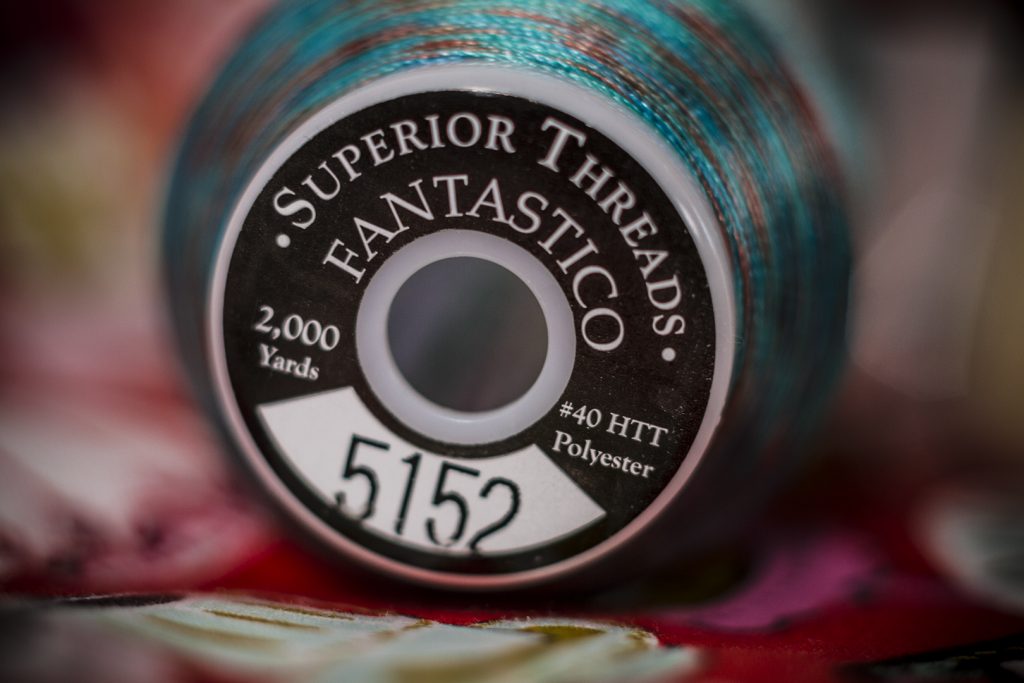 Our line designs this month are the hearts, diamonds, spades and clubs that make up the playing card suits. The blending thread makes this design more subtle but I think this works well with the fabric.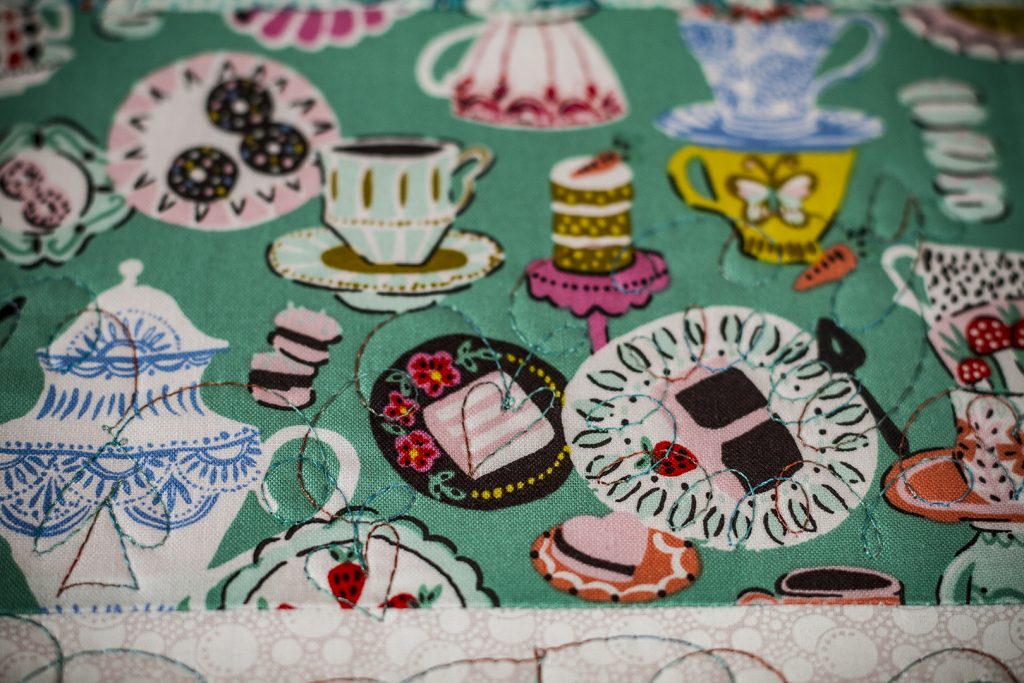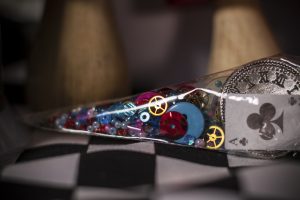 The little bag of embellishments includes the usual sequins, beads and buttons with the exciting addition of REAL watch parts and charm clock faces in honour of the Rabbit. I think that the tiny cogs are so neat! You can use them like sequins for hand embellishing. We've got a good close up shot of them below on one of our black top hats so that they show up clearly.
I thought that they went so well with our Mad Hatter tea party theme. I did want to warn you that many of the little cogs are spiky. So please be careful and don't get pricked by them.  I was able to get the spiky bit off by placing the little cog, spiky side down on a hard surface and pressing on it hard with the back side of a spoon. That make the spiky bit pop off and then I used it in a similar way to a sequin.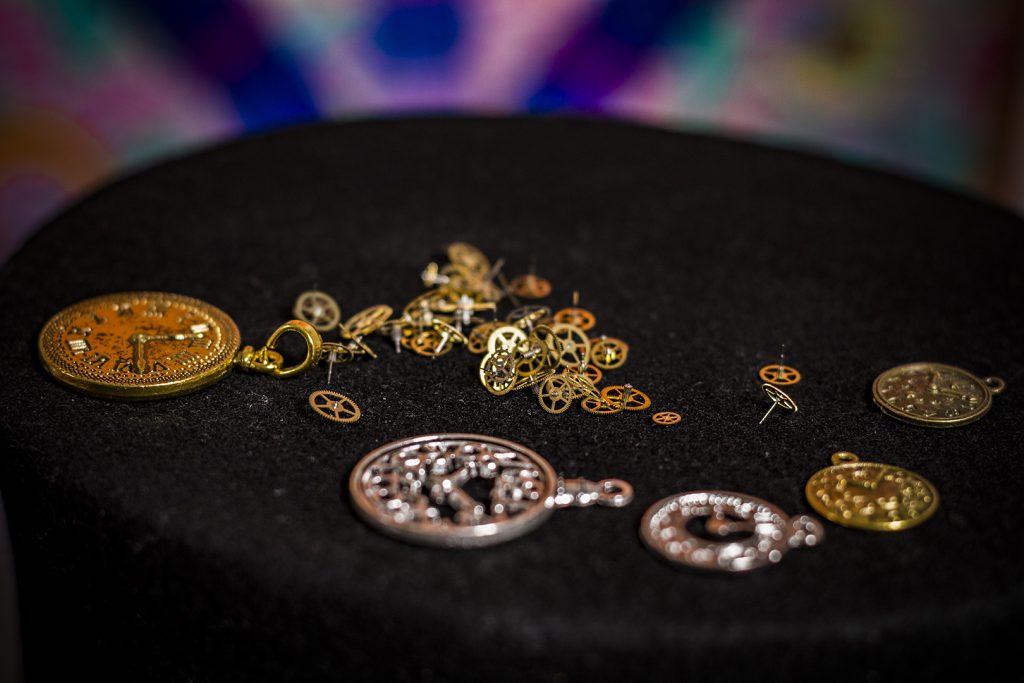 We've chosen turq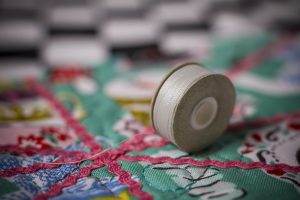 uoise and  silver for your pre-wound bobbin colours this month.  The turquoise goes great with the Budgie Fantastico cone. We recommend putting it in the bobbin while you're machine quilting on your frame.
The silver Bottom Line thread is a fantastic blender, it is practically an invisible thread. You'll love it when it comes to hand embellishing. I used this in the bobbin of my regular sewing machine when I was stitching up the postcards. Look how well it blends into the zig zag edging of the post card below.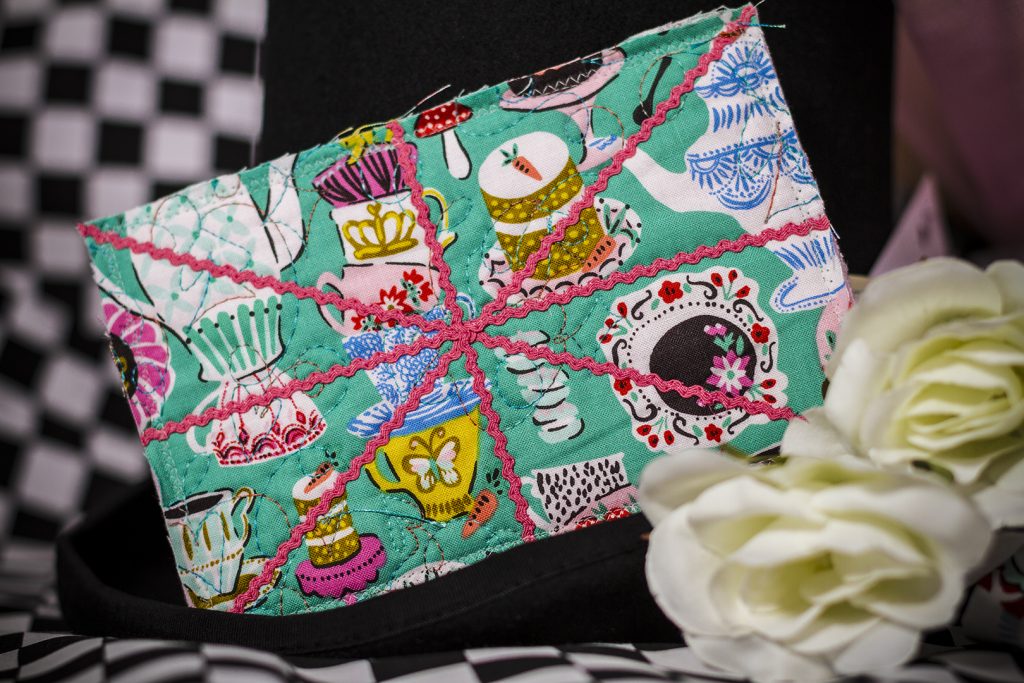 And the back features the variegated Fantastico thread setting off the zig zag edging on the paper side of the post card.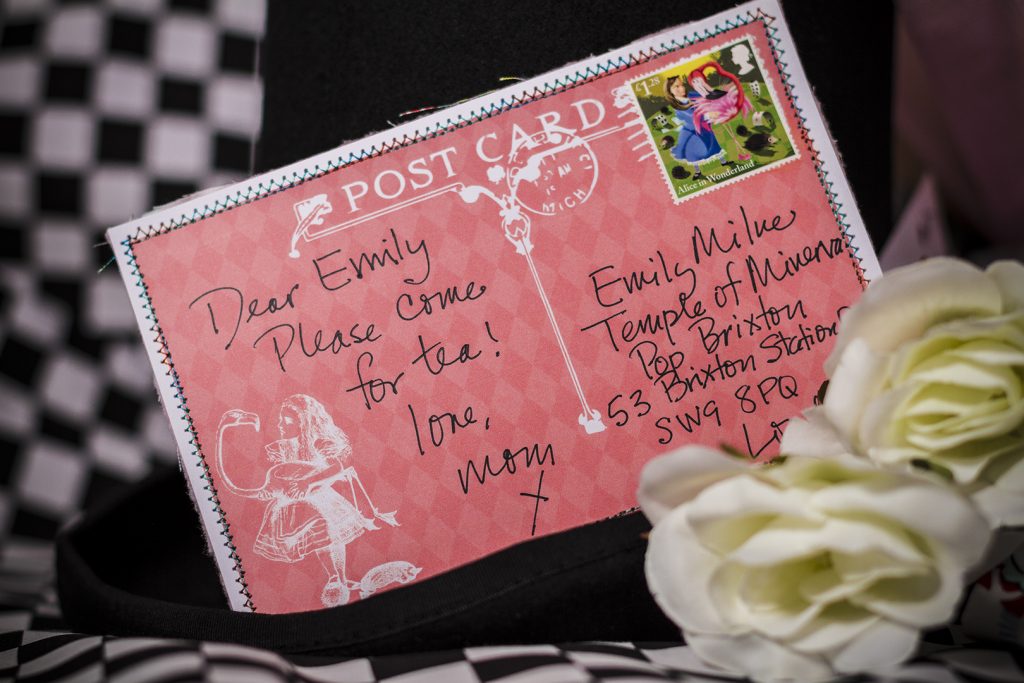 Have fun making your stack!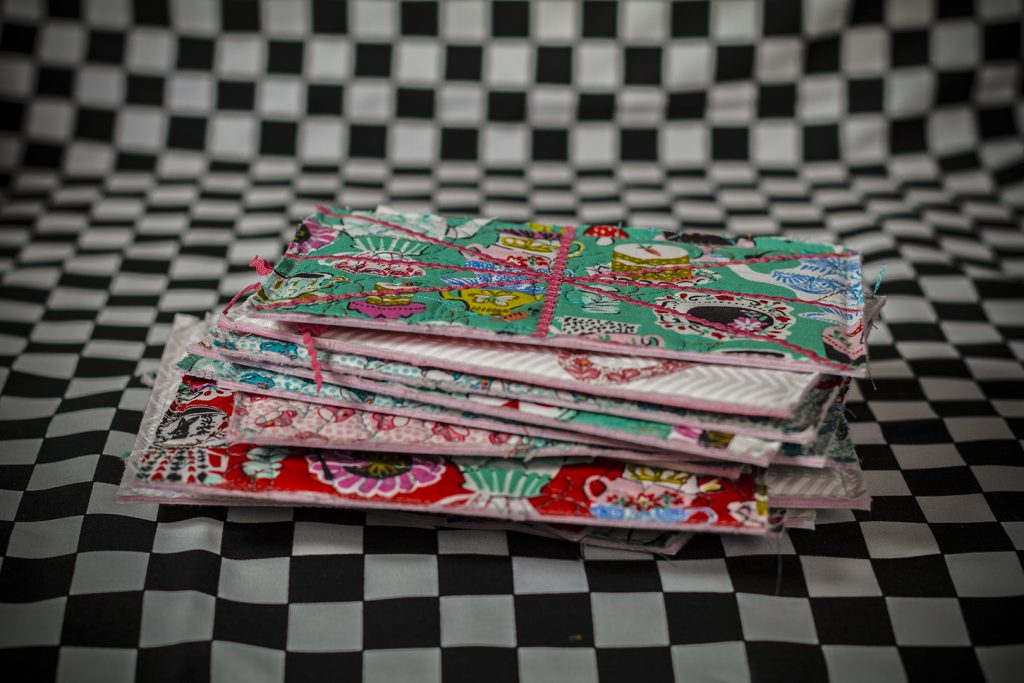 We're hosting a special event in Salisbury at the Franklins Sewing Shop. You'll get the chance to make these Alice postcards at the afternoon workshop. We're hosting a thread play session all day on the shop floor so that you can play with speciality threads in all of the top of the line sewing , quilting and overlocking machines. There will be free projects to do and an Alice Tea Party with cakes and tea!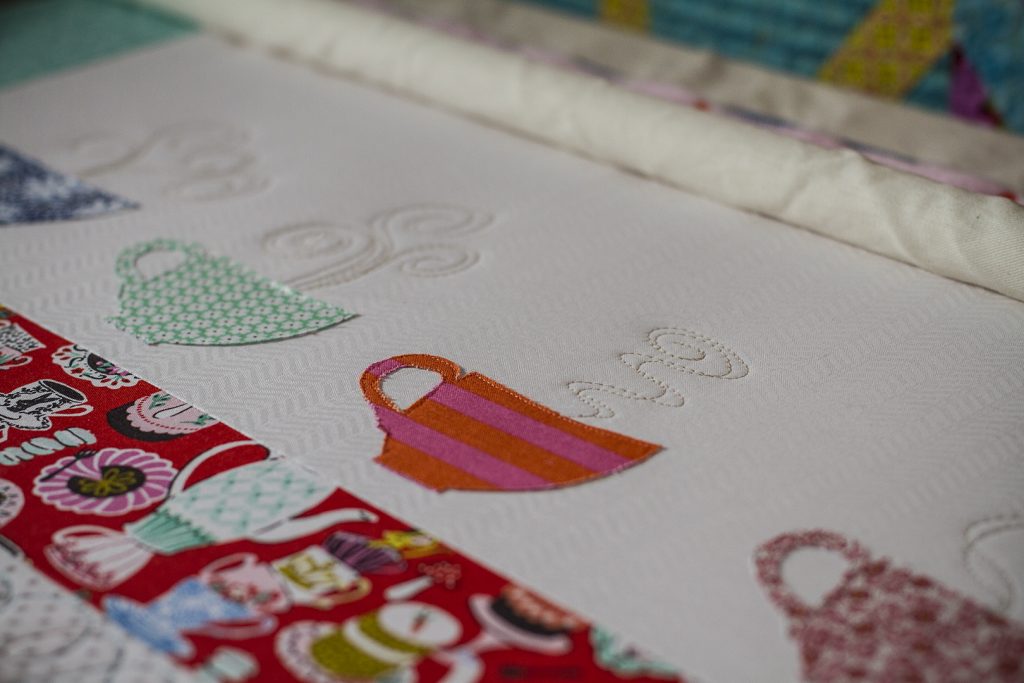 Juki Club Event – Alice in Wonderland Tea Party
Saturday 22nd April 2017 at The Franklins Sewing Shop, 41 Fisherton Street, Salisbury, Wiltshire SP2 7SU. Tel: 01722 554466
Shop floor thread-play all day ~ Free ~ Everyone welcome
Afternoon workshop 2.00 to 5.00 ~ £20 per person* ~ Book now only 10 places available
*The price includes all materials, tuition and a Mad Hatters Tea party with tea and cake.
To book your space email Martha  –  martha@machinequilter.co.uk