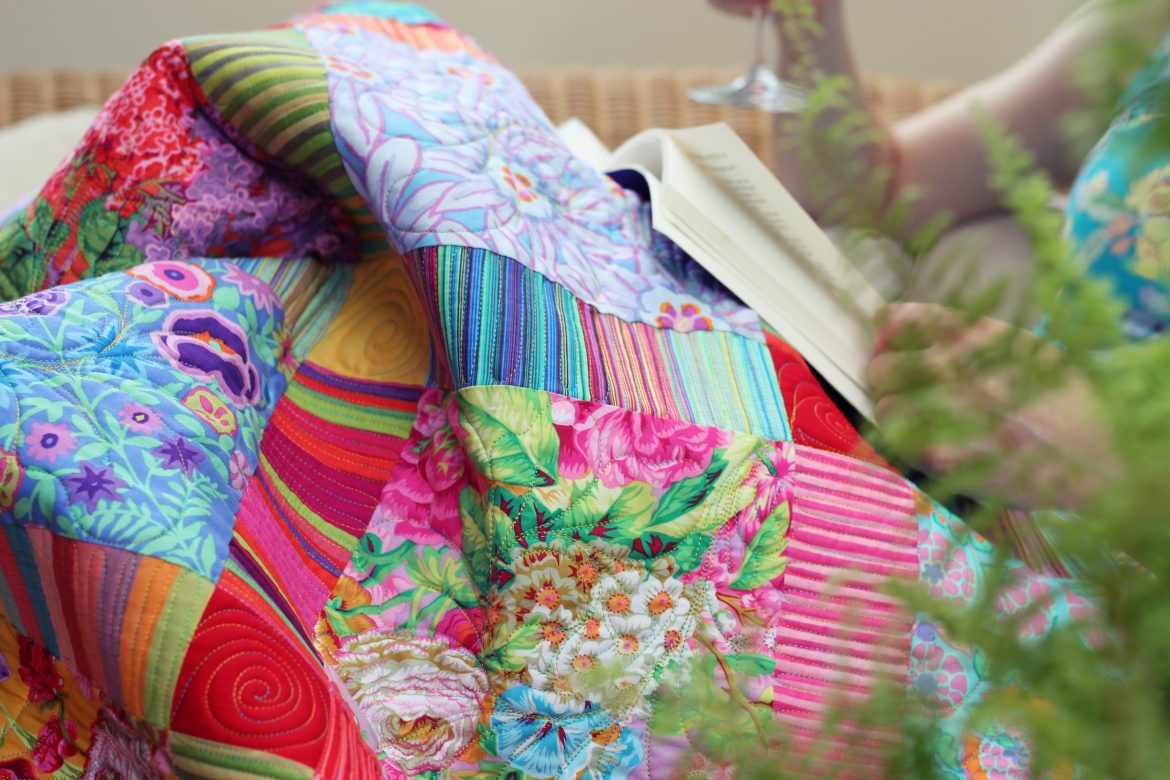 Lucy's Quilt & Colour Theory Tips
We made this quilt for our friend Lucy to take when she goes to University this fall. Lucy's quilt is so bright, my husband runs for his sun glasses, but it makes my heart dance. I love how the intense saturated colours fall into simple ordered chaos as the bold floral prints are flanked by stripes on each side and plain squares in the corners.
The stars of this show are the TL QVP Mini straight stitch and the 2200 QVP long arm machines. Although the TL machine is my favourite to use for machine quilting on frame, it makes quick work of piecing too with it's fast speed and even stitching.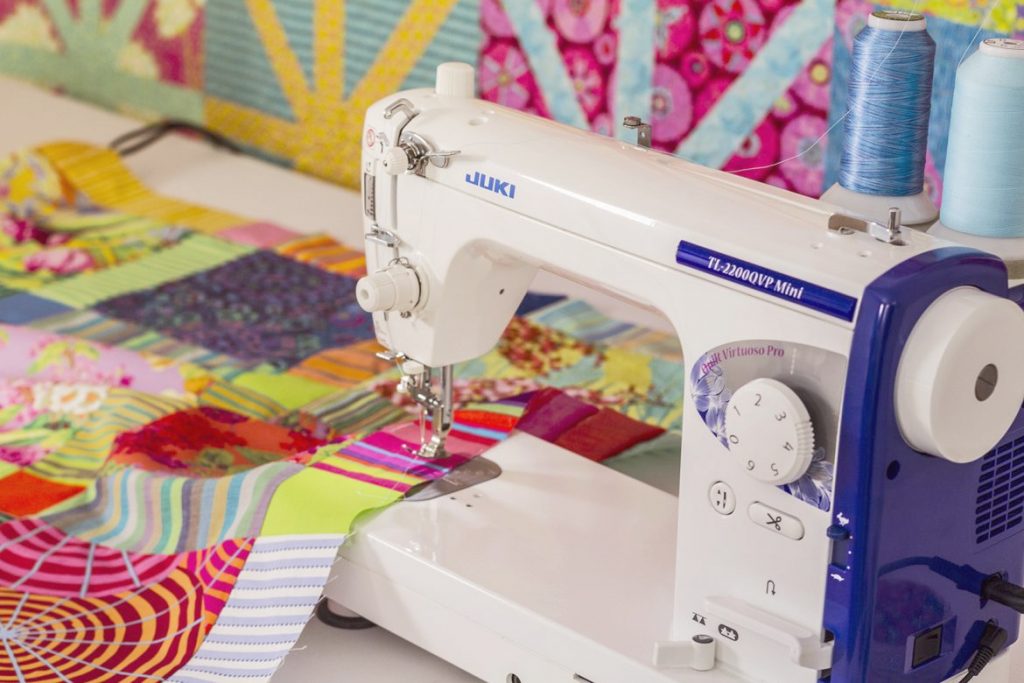 Bold fabrics call for simplicity in the piecing
Doing a quilt like this is a really great way to use up scraps of lots of different fabrics – I used a mixture of newer bright Kaffe Fassett fabrics with some fabrics that had been sitting around for a while! However, there is the danger of the loudness of the bright fabrics simply dissolving into noise, so to keep the wow-factor strong in a quilt like this you need to maintain simplicity in the piecing, allowing the complexity of the fabrics to shine through in all their brightly coloured glory.
This quilt only used three block types – a larger square, a smaller square and a rectangle. By following some simple rules about which fabrics to use for which block types, you can maintain a satisfying look and still use all those crazy, bright and loud fabrics you love but have been unsure how to incorporate into your projects. I know, cool right?!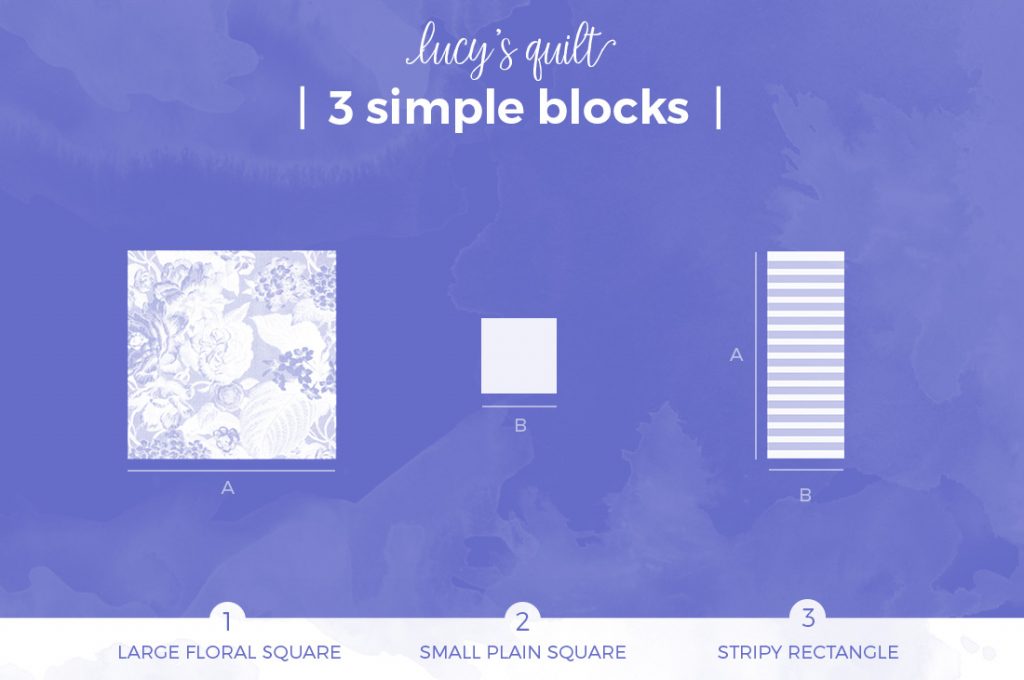 The three blocks should be used with three types of fabric. In this quilt, I had the larger squares be cut from fabrics with large, floral patterns, allowing you to showcase your favourite parts of a particular fabric. The smaller squares are all brightly coloured plain fabrics, allowing breather moments between the different patterns. Think of them as full stops at the end of a sentence. The rectangles are all stripy fabrics, cut so that stripes run perpendicular to the length of the rectangle. This allows blocks of different colour ways to be stitched together by the colours of the stripes in the rectangles. Think about the colours in the larger squares you're connecting – you could choose stripes that match them, or striped that are contrasting colours but appear in a square close by. This allows you to flawlessly blend the colour ways of lots of different fabrics. Also, note that the rectangle dimensions are determined by the size of the squares! You can use your own dimensions, but we used a 9x9in large square, a 3x3in small square, and thus a 9x3in rectangle. The 9×9 works nicely if you're getting long quarters of fabric for the project.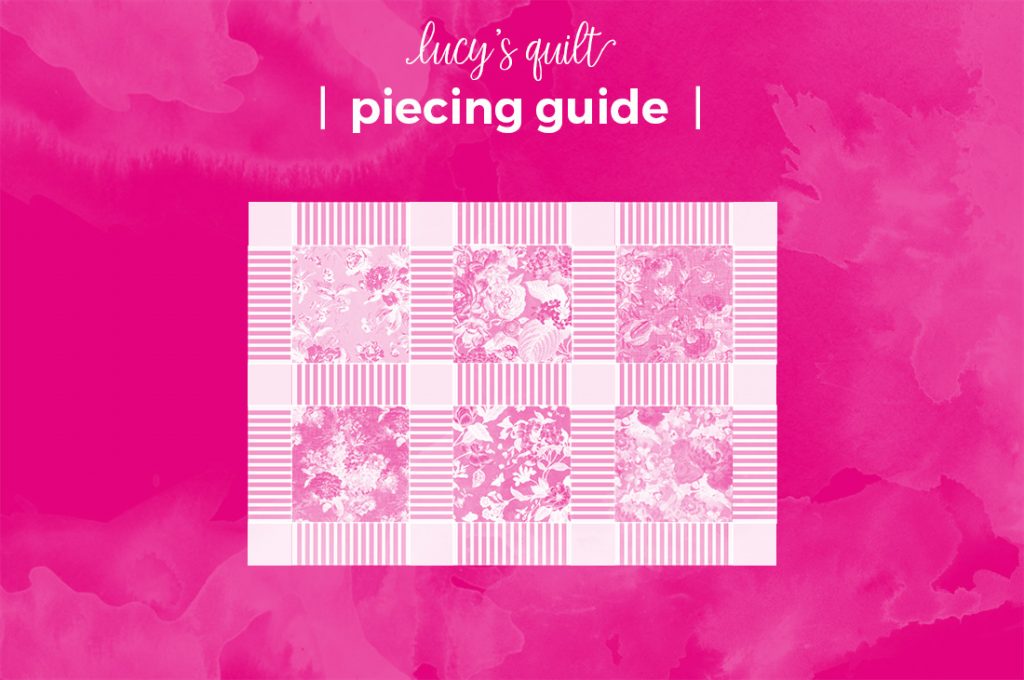 Use quilting to emphasise what you already have
Sometimes a quilt is all about the quilting, sometimes it's all about the piecing. Here it's all about the colour. The fabric's already doing a lot of the talking, so the quilting should really be used as a means to amplify the voices already present, rather than adding new ones. An all over pattern wouldn't have worked for this type of quilt, because it would be quilt difficult to find something that tied together all the different types of fabric prints (plain, stripy, larger prints). Instead, the quilting pattern is slightly different for each block type, allowing the quilting to complement each pattern type.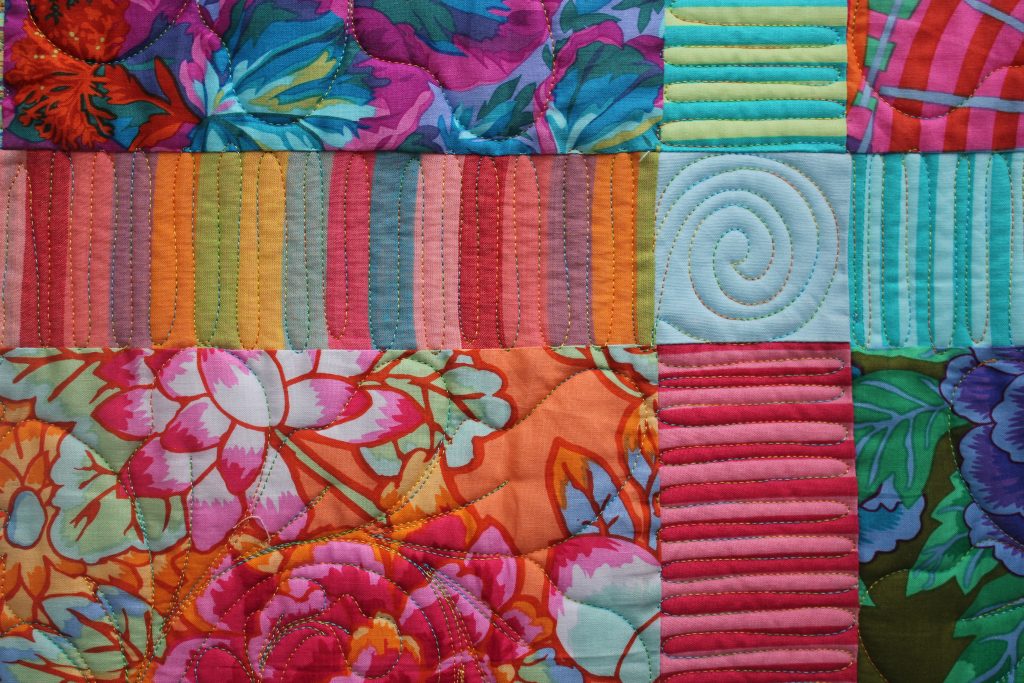 Lucy's quilt was quilted by Emily on the Juki 2200 QVP long arm. For the larger squares, we used a large swirling, feather based pattern, complementing the large floral prints in these blocks. In the smaller plain squares, we used a simple spiral swirl, which could be taken as the simplified version of the larger pattern. The swirls work well in the squares as they fill the space and emphasise the centralised nature of the square, which is naturally a static shape. In the stripy rectangles, a kind of uniform stipple was used to highlight the stripes and give them texture, emphasising the movement in these blocks.
Busting the neutral thread myth
In this quilt we used a brightly coloured trilobal polyester with a 3 inch colour change, and believe it or not, for this quilt it acts as a neutral thread. People often think they can only buy so-called neutral colours (greys, beige's, off-whites) if they want to actually end up using them. But, when you have a brightly coloured quilt where you want the quilting to blend in, your best bet is a thread that contains lots of colours, not an off-white. We used a Rainbows thread called Citrus Cooler, which has lots of vibrant greens, oranges and yellows in, and it just seemed to melt straight into the fabric, giving just the right texture. I'd also recommend any of the Fantastico line; they're, well, fantastic.
Having fun
Making this quilt really isn't rocket science, it's just simple blocks cut from all your favourite bright fabrics, combined with a vibrant thread, a dash of know-how in the quilting, and, as always, an element of fun. The result is a lovely quilt which is rich in colour and texture, but still simple and satisfying as a result of building intensity around three simple pieces.